Extended Summer Hours!!
(beginning June 1 - August 15th)

Monday thru Saturday 10:00am to 5:00pm
Closed on Sundays

Regular Store Hours

Tuesday thru Saturday 10:00am to 5:00pm
Closed on Sundays and Mondays

Demonstration Hours

Demonstrations of the Marble Making Process will be given Monday thru Saturday during the summer providing we have a glass artist available. Demos begin at approximately 10:00 or 10:30 am and shut down at approximately 4:00 pm. We may run over or finish up a bit early. Marble making is a variable process, so please allow some flexibility.

Bus tours and large groups must call ahead of time
to schedule a demonstration Tuesday through Saturday. 913-441-1432


Click Here for Driving Instructions
There is a new exit for Bonner Springs off of Interstate 70. It is no longer simply Exit 224, it is now Exit 224A and exit 224B.

So, next time you come to the Moon Marble Company, take exit 224A to get to the Moon. Exit B looks like the exit you would have taken before, but DO NOT TAKE B, TAKE EXIT A!

Holiday Hours

Tuesday thru Saturday 10:00am - 5:00pm
The Moon Marble Company will also be open the following Sundays in 2015;
Nov. 29th, Dec. 6th, 13th, and 20th.
10:00am - 5:00pm

We will be closed the following holidays; July 4th, Thanksgiving Day, Christmas Day, and New Year's Day.


---
Check out the Kansas City Marble Club www.kcmarbleclub.com who will be offering free Marble Identifications at the Moon on a monthly basis. Like our Facebook page and check in for announcements of Marble Id Days, www.facebook.com/MoonMarbleCompany.

---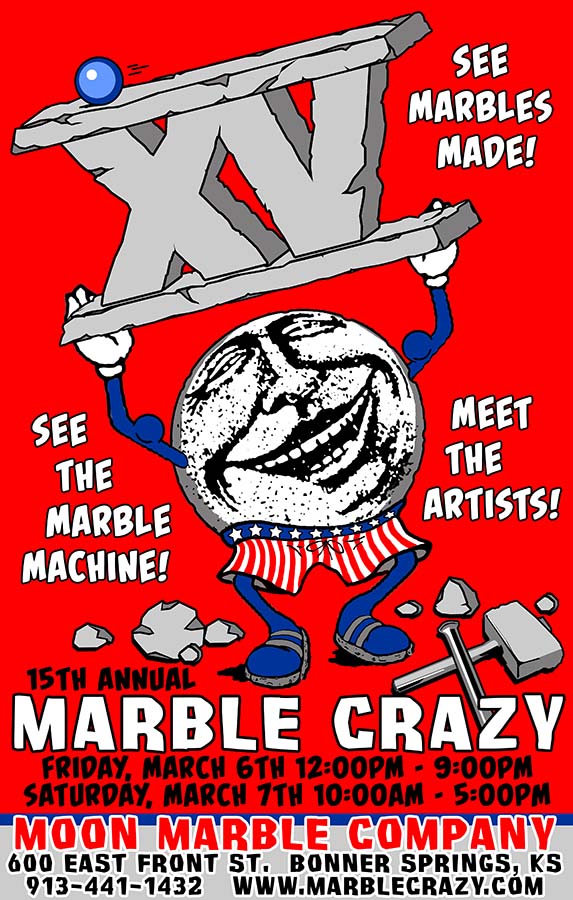 Marble Crazy 2015

Friday, March 6th, 2015, 12:00 noon - 9:00 pm
Saturday, March 7th, 2015, 10:00 am - 5:00 pm

This is our annual artist show that features approximately 20 artists and 4 demonstration areas. The artists will be working in 2 furnace working stations, a furnaceworking or glassblowing station, and a marble machine! Go to
www.marblecrazy.com
for more information.

---




www.marbleday.com has more information about the event!!!

Saturday May 2rd, 2015 9:30am - 2pm

Moon Marble Company is hosting its annual Marble Tournament at "Marble Day". The tournament is open to all boys and girls 15 years old and younger. For official game rules, click here.
---

Kansas City Renaissance Festival

Open weekends August 30th to October 13th, 2014
plus Labor Day and Columbus Day

10:00 a.m. to 7:00 p.m.

More info on the Kansas City Renaissance Festival


The name of our shops are Snooks and Crannies and Snooks by the Gate.
Shop numbers 207 and 647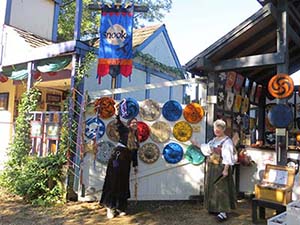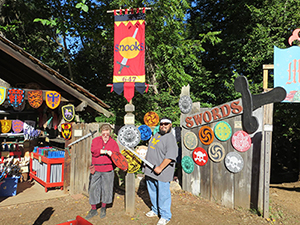 Photos of our shops at fair

We will have marbles and Marble games available at festival as well as toy swords and shields. See you there!
---
Moon Marble Company is very excited
to be one of the:
Go here to see the other 7 Wonders
and info about the contest.


---
Other Marble Tournaments around the world!


June 22nd - 25th, 2015 - National Marble Tournament, Wildwood, NJ

September 19th, 2015 - 33nd National Rolley Hole Marble Championships, Standing Stone State Park, Nashville, TN

Other Marble Shows around the world!
show information courtesy of www.marblecollecting.com/
May 9, 2015. WV Marble Collectors Club Show. Comfort Suites, Mineral Spring WV, 304-489-9600. Contact Ron Shepherd 304-863-5747.


May 16, 2015. Maine Marble Meet. 25th Anniversary Show. Best Western, Merry Manor Inn, and Governers Restaurant. 700 Main St., South Portland Maine, 207-774-6151. Contact Gary Stetson 207-420-1354.
May 16, 2015. Jonesboro Marble Show. Fairbridge Suites, Jonesboro AR 870-935-2030. Cliff Farmer 870-809-0042.

June 6, 2015. Des Moines Marble Show. Airport Holiday Inn, 6111 Fleur Drive, Des Moines IA, 515-287-2400. Contact Chad Cline 515-205-3569.

June 14, 2015. Marble Making Demonstration. Newtown Historical Society, Matthew Curtiss House, 44 Main Street, Newtown CT 06470. 203-426-5937.

July 11, 2015. Nutmeg Marble Club Show. Four Points Hotel, Meriden CT.

July 18, 2015. IAMC Marble Meet. Ramada, Tukwila WA, 1-800-544-9863. Contact Lee Linne 235-815-6928

July 18, 2015. Tulsa Marble Show. Renaissance Hotel, Tulsa OK, 800-264-0165. Contact Randy Coker 918-838-0307.

August 1, 2015. Northeast Arkansas Marble Show. Days Inn, Pocahontas AR, 870-892-9500. Contact Gary Gregory 870-647-1034.

September 12-13, 2015. Marble Weekend at Wheaton. This is a Contemporary Marble show. Wheaton Village, Millville NJ 08332. Contact Paul Katherman (no phone numbers in flyer).

​October 10-11, 2015. Northeast Marble Meet. Marble Show and Marble Auction. Crowne Plaza Cromwell CT, 860-635-2000. Contact Bob Block 203-209-7076.

October 25, 2015. Badger Marble Show. Howard Johnson Plaza, Madison WI, 608-244-2481. Contact Bill Bass 608-723-6138.

October 31, 2015. Las Vegas Marble Meet. Fortune Hotel, Las Vegas NV, 702-732-9100. Lee Linne 253-815-6928.